How to Incorporate That Beautiful Thing You Inherited
Inherited pieces add character and individuality to a space.
They can be used to create a unique, eclectic, and personalized design that reflects your taste and personality. These items often have sentimental value and emotional attachment—and we love finding ways to incorporate them. 
How Interior Design Benefits from Antiques
Inherited pieces are often one-of-a-kind and have a unique story behind them. They add an element to a space that can't be replicated with new pieces or by anyone else. Antique or vintage pieces are also often made from high-quality materials and craftsmanship that stand the test of time.
These pieces can add a sense of elegance, sophistication, and timeless qualities to a space. Plus, they can evoke memories, emotions, and nostalgia, helping a space feel more personal and warm.
Antiques can also be a sustainability boon, especially for new builds.
Furnishing a home with inherited pieces is eco-friendly. It reduces the need for new items and minimizes packaging and shipping waste.
Giving Heritage Items New Life
During the preliminary phases of design, I happened upon a drawing by my client's mother in the attic. It was kept there because, while significant to the homeowner, its small size and relative simplicity made the homeowner feel like it wasn't impressive enough to hang.
As a surprise for that client, I had the drawing framed in a grander way and we hung it opposite a similar piece on the short walls next to the bedside, highlighted with recessed lighting.
By the final installation, the client was amazed that such a special family piece had the potential all that time to be right in the bedroom. It added a personal touch to the whole space and we created a vignette fully around it.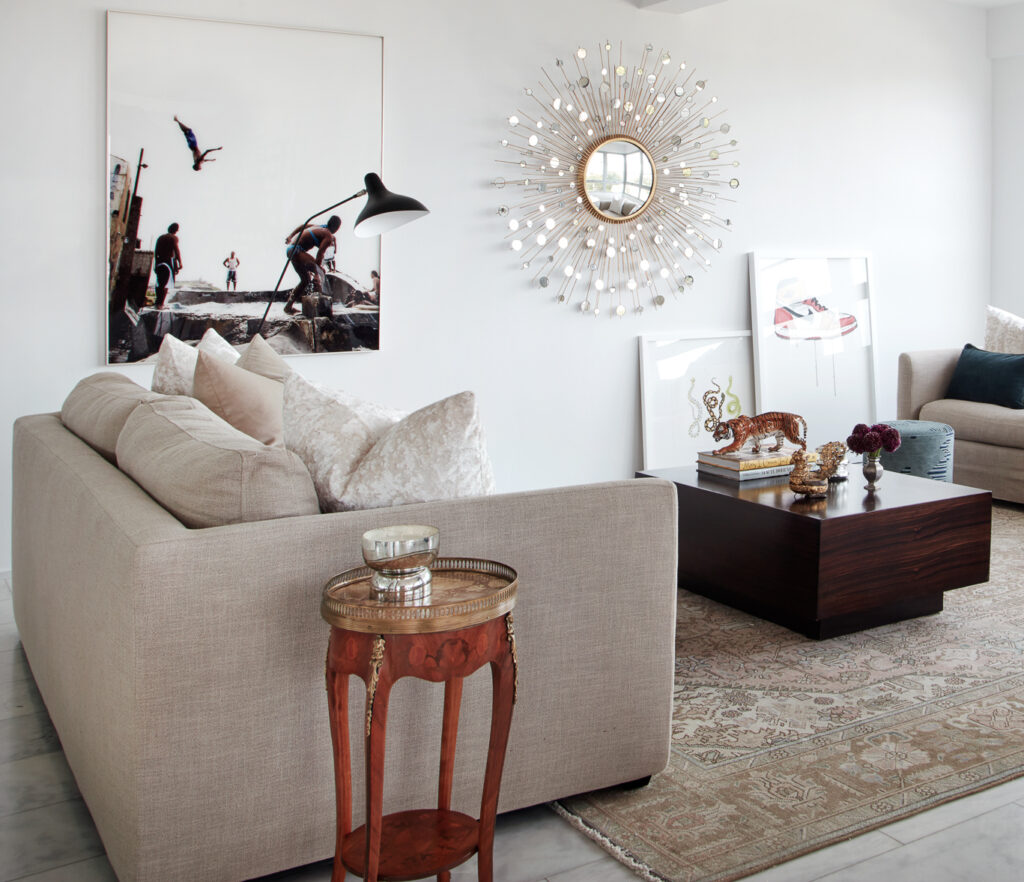 Vintage, But Updated
A different client inherited a curio cabinet from her parents. Initially, she was worried that the cabinet would end up feeling too "heavy" and draw the eye too much. But that was before we took off the doors, affixed mirrors to the back, and properly lit her wedding china within.
The mirrors help keep the room from feeling cramped due to the large nature of the piece. The elegant barware draws the eye and is kept safe from movement. The updated, vintage china cabinet is now a perfect addition to the dining room where it adds a personal and sentimental touch to the space.
Which Vintage Pieces to Design an Interior Around
Whether it is a piece of art you created in college or something that was passed down to you, artwork can add color, texture, and personality to a space. It can also create a focal point or tie together a color scheme. Original paintings, sculptures, and prints are great options, as well as photographs or mixed media pieces.
Souvenirs and items from travels can be incorporated into the home's design to add a personal touch and evoke memories of past trips. Examples may include textiles, pottery, ceramics, and other items that represent different cultures and styles.
I always go out of my way to buy something from everywhere I go as a way to remember the experience.
Incorporating Inherited Pieces Cohesively
Use pieces that have very different shapes, sizes, or materials to create an eclectic feel. If you prefer something a little more minimalist, let us combine contemporary styles for you. This will keep the space from feeling too dated.
Add modern or bold patterns to old furniture pieces by reupholstering or adding new cushions. This will bring new life to old pieces and make them feel more contemporary. Antique furniture often has imperfections that add character and charm.
Embrace these imperfections instead of trying to hide them—and have items repaired by craftsmen when necessary.
Ready to incorporate your inherited and vintage treasures? Let's talk.