Why Your Furnishings Shouldn't All Come From One Place
On our perpetual mission against matchy-matchy interiors, we've come to the conclusion that there's just no good reason to get all your furnishings from one place.
Good interior design incorporates furnishings from all origins seamlessly. And we'll show you how!
Retail Furniture Collections Minimize Nuance
The goal for a furniture manufacturer is to achieve as many looks in one collection as possible while using as few raw materials as possible. That essential tenet of manufacturing helps keep costs down. But the copy-paste mentality doesn't read well off of the showroom floor.
People want spaces that show personality.
When Furnishings Repeat
When furnishings all come from the same collection, you'll see themes repeating unnecessarily between rooms. The brass legs on the couch that really help set off the parquet floor don't look as exciting on the tile below the foyer table. Or the signature blue fabric that looks so spectacular on the window treatments just isn't cutting it as a throw pillow.
Origin Stories
Incorporating pieces with other origins cohesively into the overall design brings a sense of sophistication. These spaces look layered and show personality. There's soul in a way you just can't get from a showroom look.
When collections are made lovingly through time, designers have a unique opportunity to make it feel like it was all done on purpose.
Thoughtful Interiors
These spaces serve the needs of their owners better. They thoughtfully incorporate answers to the unique problems of the homeowner. And they resist feeling static.
Showroom floors tend to belong very strongly to a specific moment in time or highlight one movement in design trends.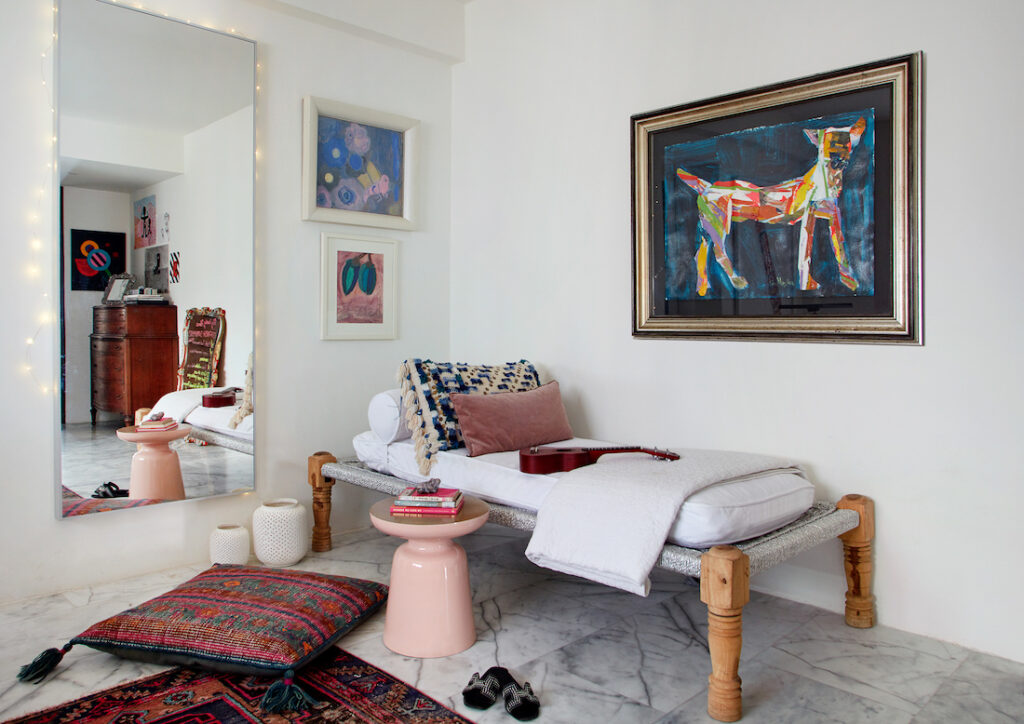 Common Interior Elements
When clients have favorite colors, themes, prints, or textures the trick is to make them all blend seamlessly. Unifying the elements involves identifying what's similar and filling in the gaps to add interest and drama.
Finding a common ground like color or materials helps unify different styles.
Blending Furnishings
Perhaps we put a Belgian linen slipcover sofa with a vintage 18th century Bergere chair in a similar linen. Or maybe we blend the neutral tones of a Scandinavian aesthetic with a more colorful mid-century modern since they both still follow clean lines.
Put more ornate items next to simple lines and vice versa. This helps balance the visual weight in a room. Heavy items need more space so they don't overtake the interior's composition.
Concept In Action
When we designed an interior for a client with a wonderfully eclectic art collection, the challenge became how to make the many iconic pieces stand out without making the space feel overwhelming.
We stuck to a neutral color palette and incorporated pops of color that echoed the art in each area.
Ratios for Interiors
Have the majority of the space (think 80%) be in one design, style, or color—for example, neutrals. Then use your accents as your pop of a different style or color (think 20% of the space).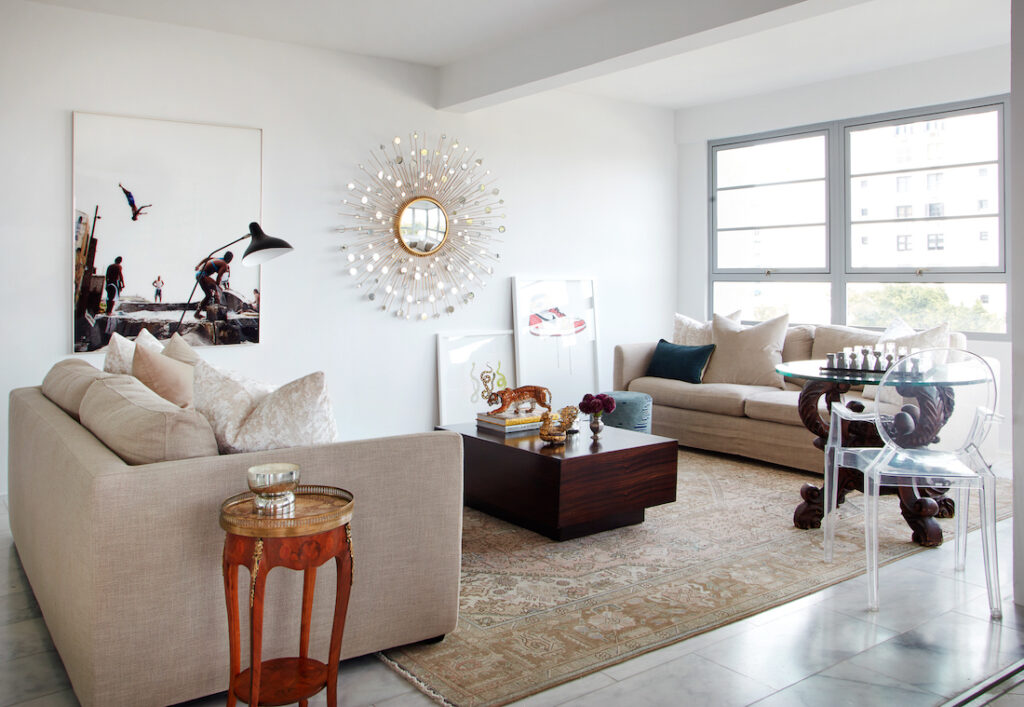 Connections Between Rooms
Trust that the visitors to the space will make visual connections even if similar pieces aren't grouped next to one another. This creates circulation from room to room.
We look for ways to help pick up the patterns started in other rooms via color, shade, fabric, pattern, and so much more.
Furniture Scale
Group furniture that works on roughly the same scale. A cow skin-canvas folding chair might look totally at home next to a light mid-century armoire but be totally overwhelmed by a dark, tufted leather sofa.
Once you know which pieces play well together, it makes it easier to fill in the spaces.
Ready to transform your space? Let's talk.